How will we go to pay with cryptocurrency? In a nutshell
Despite all the advantages that cryptocurrencies have to be used as a means of common payment, these are usually rejected for this use due to the difficulty involved. They were created with the aim of changing the financial system, however, the objective was wrong, more than the currencies, are the means of payment that will make us free of banks and other intermediaries.
Nowadays, for people and businesses, working with these currencies can be very cumbersome, indecipherable keys, hot or cold wallets, exchange, an immense variety of currencies with different values and procedures each, in short, so many terms and difficulties make the entry barrier very demanding.
Imagine a world, where we can pay with our cryptocurrencies from tickets to the cinema to drinks with our friends, without paying commissions, in a clear and simple way, making direct use of all our crypto-assets, without losing money for fees in exchanges.
Imagine a world, wherein the same device, we can charge debit/credit cards and cryptocurrencies, with fees much lower than those we are used to, having our cryptos in a few minutes and protected from the volatility of the market.
Well, we will not have to imagine it anymore, because, with Global Real-Time Authorizations and Funds Transfers (
GRAFT
), it is possible.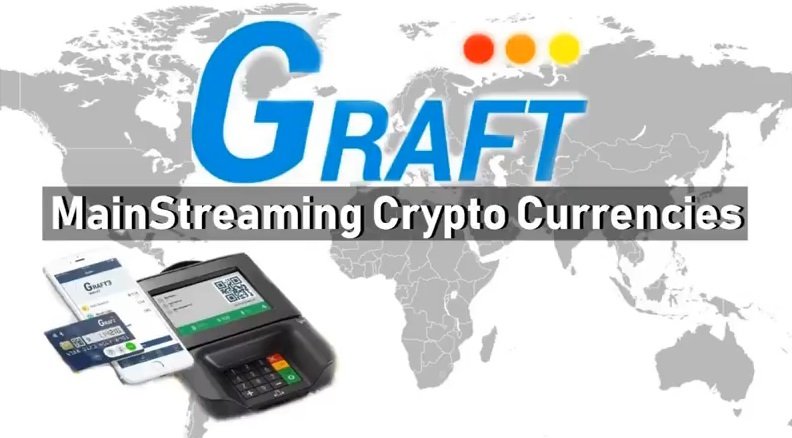 What does this mean? That we can trade with cryptocurrencies without the disadvantages of the already known methods, even having, combined advantages not available anywhere else, such as:
• decentralized system
• private, untraceable, and instantaneous transactions
• native multi-cryptocurrencies wallet
• cryptocurrency debit card
• decentralized credit card
• make transactions without any commission (special cases)
"Bitcoin, Litecoin, DASH and Monero, are to the dollar, the pound and the yen, as the Graft network is to the Visa and the MasterCard network." Source.
Therefore, all barriers that make it difficult for us to adopt cryptocurrencies en masse will be overcome, so we can start dreaming about that world where we will buy what we want with STEEM, Bitcoin, Litecoin, etc.
But Julio, it won't be more complicated for the sellers to accept, in addition to the traditional means, cryptocurrencies? It will be a mess in your stores.
That 
GRAFT
 has it fixed since it has created technology that allows adapting the system to traditional means of payment, being able the sellers to accept in same device payments with credit/debit cards and a great variety of cryptocurrencies.
How? For that we must understand the traditional payment systems:
"There are two steps to every credit and debit card transaction, these are called: authorization and settlement." Source.
The authorization happens when you pass the credit card, it is where the transaction is approved or rejected, it takes around 3 seconds. The settlement takes place behind the scenes, it is the transfer of your funds to the vendor, it takes a couple of days to complete.
"Utilizing what they call Service Brokers, which will allow merchants to not only receive payouts in their cryptocurrency of choice,but also in their local fiat currency." Source.